Lorry drives into crowd on pedestrian street, 4 confirmed dead – 39 year old man arrested: "claims to be responsible for the attack"
At least four people have died during an attack where a lorry crashed into pedestrians in the Swedish capital Friday afternoon.
"Sweden has been attacked, everything points to an act of terror", says Swedish prime minister Stefan Löfven.
During all of Friday afternoon and evening police urged people to stay away from downtown Stockholm.
All hospitals in the Stockholm area have been put in a state of emergency.
At 2:53 pm, Friday afternoon, police was alerted to Drottninggatan, a main shopping street in downtown Stockholm.
An hour later Swedish prime minister Stefan Löfven stated that Sweden has become the scene for an apparent terrorist attack.
"Points to an act of terror"
"Sweden has been attacked, everything points to an act of terror" says the Swedish PM in a brief statement.
A lorry was, in what seems to be a deliberate attack, driven several blocks along the pedestrian street hitting and running over several people.
The lorry then drove straight into the storefront of the Åhléns department store, a main spot for Friday shoppers in the Swedish capital. Shortly thereafter the lorry caught fire.
At least four people have been killed in the attack and there is "a large number of wounded".
"I saw hundreds of people running. They ran for their lives" says eyewitness Anna to Aftonbladet. "I turned and ran aswell!"
Panic as the lorry ran over people
Another eywitness, Durde, tells Aftonbladet of how he saw the lorry hit innocent bystanders: "The lorry just drove, full speed ahead, down Drottninggatan street, hitting people" he says. "We had to throw ourselves into an H&M store, and then the lorry hit Åhléns".
Doing some Friday shopping on the street of Drottninggatan Jan Granroth heard people scream: "We were inside a shoe store and heard noise. I looked out from the store to see this huge truck slam into the wall on the opposite side of the street" says he.
"I ran as fast as I could"
Granroth had to escape through an emergency exit out onto a neighboring street.
Dimitris, another eyewitness describes the panic when the truck came out of nowhere.
"I was walking on the main street when a big truck came out of nowhere" he tells Aftonbladet. "I could not see if anyone was driving it, but it seemed out of control. I saw at least two people being run over. I ran as fast as I could away from there".
During the afternoon central Stockholm was held in a complete lockdown. Car traffic as well as trains and underground trains were all shut down.
Just before 8 pm Friday evening the Stockholm underground were up and running again, however no trains were allowed to stop at T-centralen and Hötorget stations, the ones closest to the attack.
Bomb threat against the Central station
The Swedish government offices, situated a block from Drottninggatan, approximately 700 meters from where the attack took place, were evacuated and all ministers put to safety.
The Stockholm central station, in close proximity to both Drottninggatan shopping street and Åhléns department store, was also evacuated after a bomb threat, presumed to be related to the attack on street level.
Police urged people to stay away from downtown Stockholm and to avoid large crowds.
Security footage of man "wanted for questioning"
According to the Swedish Security Service during a press conference at 5.50 pm Friday afternoon, the lorry, belonging to a well known Swedish brewery, was stolen in central Stockholm shortly before the attack.
The driver was hit by the lorry as he tried to stop a suspect from stealing the vehicle. According to sources the suspect covered his head with a black hoodie.
During the press conference the Swedish Security Service also presented a picture from security footage, taken in close proximity to the Åhléns department store, of a man wanted for questioning. According to the Security Service the man was at that time not considered to be a suspect but rather a person of interest, with information of importance for the ongoing investigation.
One man arrested
Around 8.30 pm a man was arrested in the town of Märsta outside Stockholm. A source tells Aftonbladet that the man claims to be responsible for the attack.
Police confirm that one man has been arrested in connection with the attack in Stockholm, and that he resembles the person on the pictures, previously acknowledged as a "person of interest".
Aftonbladet's sources have identified the arrested man as a 39 year old Swedish resident of Uzbek citizenship. In his social media accounts the man has expressed positive views of the terror organisation IS, and also "liked" a picture on Facebook of bloody victims taken seconds after the explosion at the Boston Marathon in april 2013.
"He never speaks of politics"
One of the man's acquaintances spoke to Aftonbladet from her home in Stockholm: "He has four children and works in construction".
"He never speaks about politics or religion, the only thing he talks abut is getting more work so that he can send more money to his family" says she and also states that the man does not live at his registered address but in one of Stockholm's southern suburbs.
Swedish police are not yet ruling out the possibility of more than one perpetrator and are still conducting investigations through out the vicinity of Stockholm and also other places in Sweden.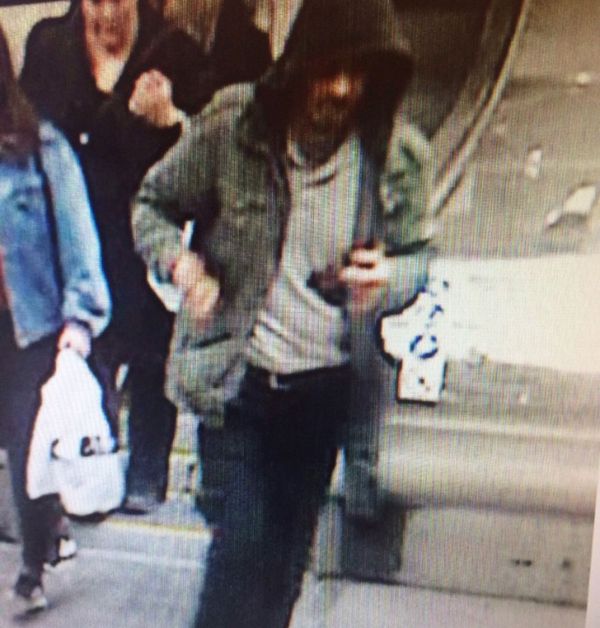 This photo released by Swedish police shows a person that the investigators want for questioning.
Foto: SWEDISH POLICE
Police urges anyone who have information regarding this man to call 114 14.
At 6 pm Swedish police evacuated stores and boutiques along Drottninggatan shopping street where the attack took place three hours earlier.